OMCP Certification is the premier industry certification for digital marketing professionals who have verified experience, extensive training, and have demonstrated knowledge of online marketing concepts and best practices across multiple digital marketing disciplines. Customers, co-workers, employers, and partners can be assured that OMCP certified professionals have proven their knowledge and are committed to maintain generally accepted practices through the industry's top training providers, organizations, and industry events.
Who should apply?
Experienced online marketers who have met the requirements below and have made a commitment to ongoing professional development.
How to apply:
1. Ensure you're ready
If your goal is to apply for your OMCP certification, be sure you have the necessary qualifications below for course work, education, and/or experience before you take the OMCP exam.
As of July 1, 2015, OMCP Certification requires a passing score on the OMCP exam AND:
OR
a post-secondary degree plus 2,000 hours experience.
OR

*Application for certification must be submitted within 90 days after completing the OMCP exam and/or relevant coursework.
2. Register for your OMCP exam
The OMCP Exam is proctored online, so there's no need to travel or wait. To schedule your online exam session, click the button below to register for an OMCP.org account, pay for your exam, and follow the instructions to select an exam time that fits your schedule.
Register to take your OMCP Exam
Once you have completed the OMCP exam, and ensured you meet the experience and/or education requirements, upload your credentials for final approval for certification.
3. Apply for your certification
Once you've ensured you have met the requirements, you're ready to apply for certificate status.
To apply for certification status, you'll create a user account on omcp.org (or login to your existing account), upload your proof, and after a successful review by OMCP staff, get a confirmed certification status.
How and where do I take the exam?
The OMCP Exam is proctored online, so there's no need to travel. Exams can be scheduled to be taken at any time and from anywhere the exam taker has a reliable internet connection.
To be proctored for your exam, you must have a web camera and a microphone so you and your proctor may communicate. Resources of any kind are not allowed during the exam. This includes, books, notes, access to online information, texts, chats, or phone calls, or having another person in the room while the exam is happening.
How do I prepare for the exam?
Planning ahead for your exam will help ensure that you have the best chance to be successful and that the exam process works smoothly for you.
Preparation for the OMCP exam must include a combination of practical experience in online marketing coupled with continuing education in recent accepted practices. No course or published book will completely prepare a candidate to pass the OMCP exam. The minimum recommended preparation for the OMCP exam includes 1,000 hours of online marketing experience that includes conceptual understanding of at least six online marketing disciplines, coupled with 64 didactic hours in OMCP-Approved Courses covering two specific disciplines. Candidates with more practical experience may need less education, and candidates with more education may not need as much practical experience. In most cases, a balanced combination of experience and up-to-date education is essential.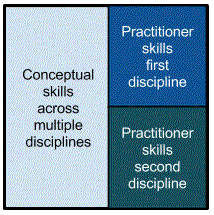 The OMCP Exam structure comprises base-knowledge questions which test conceptual knowledge across multiple online marketing disciplines, plus two additional sections that focus on generally accepted practices in specific core disciplines.
The following online marketing disciplines are supported by the most recent OMCP Role Delineation Study, are considered core to OMCP certification, and determine the content of the OMCP exam sections:
Content Marketing
Conversion Rate Optimization
Email Marketing (included within OMCA and OMCP Base exams only)
Mobile Marketing (included within OMCA and OMCP Base exams only)
Paid Search (PPC)
Search Engine Optimization (SEO)
Social Media Marketing
Digital Analytics
What does it cost?
The OMCP exam fee is US $395 for all three parts, payable upon registration. The fee covers online proctoring and the exam delivery systems. In the event a retake of any part of the exam is necessary, the OMCP base-knowledge exam retake fee is $225 and the OMCP skills-exam retake fee is $150 per skill-exam. There is currently no cost for application for certification of individuals, though this may change in the future.
How long will OMCP certification last?
Because of the rapid changes in digital marketing, OMCP Certifications last two years when renewed with PDUs. To gain two years of certification, the candidate must use one of the following methods to gain the full two years:
Extend the certification for the second year by participating in recognized organizations, events, training programs, and communities to earn Professional Development Units (PDUs).
Renew the certificate for the additional year by passing the OMCP exam.
Currently, accrual of 100 PDUs during the year is required for extension. Completion of PDU events must have occurred within 90 days of renewal date to be considered for renewal.
To submit PDUs for OMCP Re-Certification, simply provide the necessary verification for review through your member dashboard.
Passing the OMCP exam is required every two years, at minimum. Extension via PDUs occurs every other year.
Eric Kozlik
Digital Content Manager
Price Benowitz, LLP