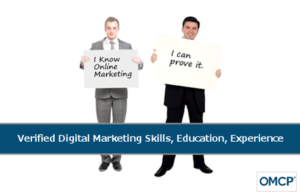 The Online Marketing Body of Knowledge (The OMBOK) identifies the knowledge generally recognized as good practice of online marketing.
The knowledge and practices described in the document are generally accepted to be applicable to most marketing work most of the time, and there is consensus about their value and application. "Good practice" means that the application of these practices and techniques can increase the chances of marketing success over a wide range of marketing projects.  The OMBOK comprises practices and definitions for the following parts of online marketing:
| | |
| --- | --- |
| Search Engine Optimization | Digital Advertising (Paid Search) |
| Web Analytics | Conversion Rate Optimization |
| Email Marketing (with Automation) | Mobile Marketing |
| Social Media Marketing | Content Marketing (with Video Marketing) |
Written by the Industry, For the Industry. Call for Authors
The OMBOK is written by industry leaders who write and update portions of the document according to the OMCP competency standards.
To contribute to the OMBOK, accepted authors answer specific questions that are derived from the OMCP competency Standards.  The majority of the OMBOK comprises these answers, with attribution.  
If you would like to contribute to the OMBOK, let us know via email to info@omcp.org or through the form below.