The OMCA™ certification is a worldwide standard for digital marketing that verifies the skills, education, and experience necessary to drive digital marketing initiatives. Over 900 universities and training institutes teach to OMCA standards worldwide. Thousands of leading companies prefer to hire professionals with OMCA and OMCP credentials.
Benefits of OMCA certification
Individuals who earn the OMCA certification:
Stand out to employers and clients as having verified digital marketing skills, education, and experience
Earn between 16-26% more than non-certified digital marketers
Operate more effectively as a marketing professional, sharing common language and generally accepted practices across multiple disciplines
Teams and agencies that hire and train to OMCA digital marketing standards lead the industry in marketing performance.
Earn OMCA in good company: See the job titles and hiring companies for the most recent OMCA certified.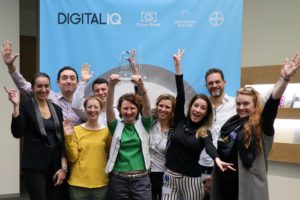 How to get your OMCA certification:
When you join OMCP, your certification portal is where you'll set your goals for certification, track your status, and upload proof of education and experience (or course work) for your certification evaluation. Based on your choices, you'll receive a confirmation with specific requirements, tips and encouragement from hiring managers and messages from certified marketers who are still experiencing the benefits of OMCA and OMCP certification from years ago.
A passing score on the OMCA exam is required for certification. The exam is proctored online 24/7, so there's no need to travel or wait. Register for your OMCA exam and follow the instructions to select an exam time that fits your schedule. Learn more about the OMCA exam.
When you've passed your OMCA exam, upload your verification proof, confirm you have met all OMCA requirements, and request your certification review. Staff will verify your claims and confirmation of certification is typically completed within one business day.
Frequently-Asked Questions about OMCA:
Who should apply for OMCA?
OMCA certification is perfect for managers of marketing teams, recent graduates of digital marketing courses, those with 600 hours of experience in digital marketing, or as a first step towards earning an OMCP® certification.
What are the requirements for OMCA Certification?
Find out if you are qualified right now.
The
requirements
for OMCA certification include:
A passing score on the OMCA exam PLUS one of the following:

4,000 hours (two years) of marketing experience
OR proof of completion of an OMCP-Approved digital marketing course within the six months prior to your application
OR A secondary degree or equivalent (e.g., High School diploma or GED) with 600 hours of marketing experience

For more in-depth information about requirements, certification, and exams, see the exam and certification FAQ
How and where do I take the OMCA exam?
The OMCA Exam is proctored online, so there's no need to travel. Your OMCA Exam can be scheduled to be taken at any time and from any location with a reliable internet connection.
To sit for your exam, you must have a web camera and a microphone so you and your proctor may communicate. Resources of any kind are not allowed during the exam. This includes, books, notes, access to online information, texts, chats, or phone calls, or having another person in the room while the exam is happening.
What is the exam like?
The OMCA exam is served online with approximately 70 multiple choice questions and allows 75 minutes for completion. The OMCA exam tests for concept-level understanding of the components and practices across eight basic online marketing disciplines:
Digital Analytics
Social Media Marketing
Search Engine Optimization (SEO)
Content Marketing
Digital Advertising (Including PPC)
Conversion Optimization (UX)
Email Marketing
Mobile Marketing
To ensure integrity, the exam is proctored by an online, remote proctor. So you can take the exam from anywhere and on a day and time of your choosing.
A purchased instance of the OMCA exam includes one OMCA exam instance and does not include 'free retakes'. There are no refunds for exams whether taken or not. Candidates must sit for the OMCA exam within 90 days of purchase/registration.
After purchase, you will receive an email that explains how to schedule and access your exam.
How do I prepare for the OMCA exam?
Preparation for the OMCA exam should include a combination of associate-level experience in digital marketing coupled with up-to-date training . No course or published book will completely prepare a candidate to pass the OMCA exam.
The minimum recommended preparation for the OMCA exam includes 600 hours of marketing experience that includes conceptual understanding of at least six online marketing disciplines, coupled with completion of an OMCA-Approved Course covering eight (or more) specific disciplines listed below. Candidates with more practical experience may need less education, and candidates with more education may not need as much practical experience. In most cases, a balanced combination of experience and up-to-date education is essential.
The following online marketing disciplines are supported by the most recent OMCP Role Delineation Study, are considered core to OMCA competencies, and determine the content of the OMCA exam:
Content Marketing
Conversion Optimization (UX)
Email Marketing (included within OMCA and OMCP Base exams only)
Mobile Marketing (included within OMCA and OMCP Base exams only)
Digital Advertising (including PPC)
Search Engine Optimization (SEO)
Social Media Marketing
Digital Analytics
Candidates may choose to take a practice exam ($15 US) to get a sampling of the types of questions that will appear on the final OMCA exam.
What does the OMCA certification cost?
The cost for the OMCA exam is US $225. Some pre-registered groups may use a voucher to complete the purchase process at no cost. The fee covers online proctoring and the exam delivery systems for one attempt of the OMCA exam. Retakes are not free.
There is currently no cost for application for certification of individuals, though this may change in the future.
What is the OMCA pass rate?
OMCA Exams for certification result in 'pass' or 'did not pass' outcomes from exam sessions. Item level feedback is not provided. Grades, percentage, or cut scores are not published or shared. Candidates who receive a 'did not pass' notification are encouraged to review previous training material and make another attempt to reach certification. Pass rates are typically higher after review and subsequent retake. Retakes incur the same cost as the first attempt. Schedule a retake here. OMCP also offers a practice exam to determine readiness for the certification exam.
What happens when I pass the OMCA Exam?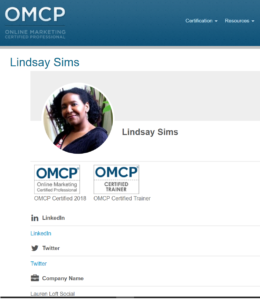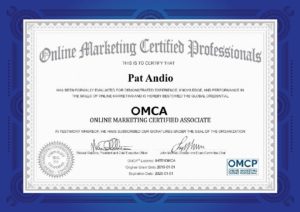 OMCA certification verifies digital marketing skills, experience and education. Candidates must upload proof of a passing score (a unique verification code is provided after passing the OMCA exam), proof of experience, and proof of education through the OMCP membership portal (Create a free membership account here). Proof of experience, education and training can be a resume, photo of highest diploma/degree, and a certificate of completion of training respectively. Reference the certification FAQ for details on what qualifies for each requirement.
Staff are notified upon upload and work to complete verification within three business days. Requests for expedited reviews are often honored.
After staff review, candidates are notified about certification status or of any missing requirements. Candidates who earn certification status receive a OMCA Badge with verified license ID, signed and numbered digital certificates, and a verification profile on omcp.org.
How long will my OMCA certification last?
Because of the rapid changes in digital marketing, OMCA Certifications last two years when renewed for the second year with Professional Development Units (PDUs). To gain two years of certification, the candidate must use one of the following methods:
Extend the certification for the second year by submitting proof of participating in recognized events, training programs, and communities to earn Professional Development Units (PDUs).
Renew the certificate for the additional year by passing the OMCA exam.
Currently, accrual of 100 PDUs during the year is required for extension.
To submit PDUs for OMCA Re-Certification, simply provide the necessary verification for review through your member dashboard.
Who is OMCP?
OMCP is a certification standard and an industry association that maintains the competency and exam standards for online marketing in coordination with industry leaders. It is an independent standard, not tied to any one platform, training provider, agency, or vendor.
OMCP does not provide training. The association provides certification verification and credentialing of individual practitioners, agencies, and educational institutions.
OMCP publishes competency standards used for curriculum and employee evaluation, the industry body of knowledge, certification exams, readiness tests, and podcasts/interviews related to best practices in online marketing.
The OMCP mission is to continually improve the standards of practice, education, and employment of online marketers.