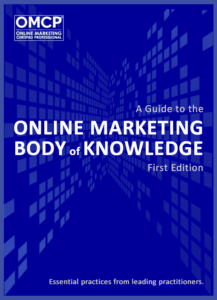 Professional marketers are invited to answer questions, vote, and comment below. Curated answers from the OMBOK pages will be published, with attribution, in the next free Guide to the Online Marketing Body of Knowledge from OMCP.
Web Analytics is the analysis of qualitative and quantitative data from your site, mobile app and company competitors, to drive a continual improvement of the digital experience for profitable multi-channel business outcomes.
The practice of web analytics enables business leaders in Marketing, Sales and Customer Services to measure the impact of digital initiatives by deep and rigorous analysis of user behavior on digital experiences. marketers to measure the effect of marketing initiatives, trends, and user behavior through digital channels.
An effective web analytics practice in any company delivers higher profits, increased customer satisfaction, and long-term business success.
You must login to post comments
Your Answer
Please login first to submit.