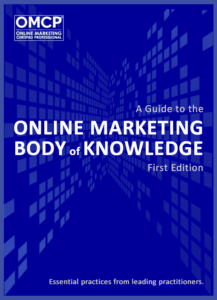 Professional marketers are invited to answer questions, vote, and comment below. Curated answers from the OMBOK pages will be published, with attribution, in the next free Guide to the Online Marketing Body of Knowledge from OMCP.
Analytics activity can be broken into three pieces: Data collection, data reporting and data analysis.
In marketing teams of more than twenty, all three responsibilities are typically owned by a dedicated group of web analysts who individually will have technical skills (usually one or two) and analytical skills (at least three, or more depending on company size). The team usually reports to the CMO, or in some cases to the CFO.
Large companies also retain the services of an external agency to help them with complex analytical challenges (like data-driven attribution and multi-channel business impact).
You must login to post comments
Your Answer
Please login first to submit.