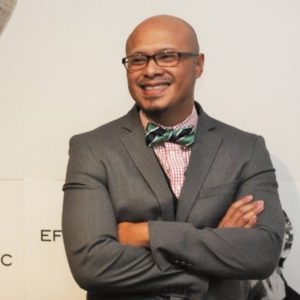 Dr. Emad Rahim, PMP, OMCP
Kotouc Endowed Chair/ Director/ Associate Professor | TEDx Speaker | CM of the Year | Empact100 Honoree
Bellevue University, Jack Welch Management Institute, Project Management Institute
"I think there needs to be balance between traditional education and competency-based testing, right? Where academia changes a lot slower than industry standards. So it may take a year or two for me to get a new degree program implemented and approved. It may take me a full year to revise a curriculum based on changes in the industry. Where I think industry standards change so rapidly. Research, ideas, methodologies, technologies. Those things are constantly changing. So that's why certification is so important because it balances this stuff out."
Welcome to Take Ten, OMCP's podcast where we spend 10 minutes, more or less, talking to online marketing thought leaders, educators and career professionals about training and certification, with host Jane Flint and David Temple.
OMCP: So we're talking to Emad Rahim. He's the endowed Chair for the Project Management Center of Excellence and Associate Professor and Program Director of the Project Management Degree Program at Bellevue University. Dr. Rahim, I'm wondering if you could tell our audience a little bit about yourself and your background in online marketing.
Dr. Rahim: I have been in academia for the last 10 years. Prior to that, I was in for-profit corporations. I worked as a vice president, as an executive director and as a management consultant for various organizations before I got into academia. I earned my doctorate in business, also earning post-doctorate in marketing. So that's where my interest lies.
As a business consultant, I also help small business, not-for-profit, even government agencies work on marketing strategies. And when social media entered the space and digital marketing entered the space, many of my clients, including the University started looking at opportunities and advantages in entering the social media space. So that's where my interest lies and that's where my background lies.
And I think the space of social media, digital marketing, content marketing, is creating a lot of new opportunities. And it's going beyond what we consider traditional marketing. And how companies brand and how universities brand. And how, even as an individual, brand themselves in regards to their specialization or their celebrity status and so forth. So it's an amazing environment that's quickly evolving and changing in regards to the technology, the language, the strategy. And even what we consider the tools and techniques that are involved in the space.
OMCP: Yes, I agree. I think it's a quick evolution and we're all learning real-time to use it. So you're currently on the faculty at Bellevue University. But I notice that you'd also served on the faculty of Colorado Technical University, SUNY Morrisville in the business and management departments. Can you tell us a little bit about the programs you've overseen in those universities, and what your specific contributions to business and management education have been?
Dr. Rahim: I would love to. So I've worked at traditional universities like SUNY Morrisville, as you mentioned. Oklahoma State, Syracuse University. I even lectured at Cornell University. But I've also worked with a lot of non-traditional schools like Colorado Tech, Bellevue University, Strayer, Jack Welch. So I had the opportunity to influence how degree programs are created. How online programs are taught. The technology that is used. The marketing strategies behind rankings and curriculum development and design. I served as a university dean at Colorado Tech. Also a curriculum dean at Strayer University. I've served as an endowed Chair, as you mentioned. An entrepreneur in residence. Full professor, associate professor at various institutions.
So I had the opportunity to not only play the role as an administrator in developing new degree programs…we're talking about MBAs, doctoral programs and undergraduate programs…so I had the opportunity to create some of the first digital marketing degree programs at some of these schools. Both at the MBA concentration and at the undergrad. And developed partnerships with Market Motive, Management Association and IAL and some of these other corporations that do digital media and social media.
But as a faculty, I also had an opportunity to teach them. So these courses that I developed, these degree programs that I helped create, now as a faculty, I get a chance to teach them. And look at opportunities to improve them. Look at opportunities to change the course of the pedagogy and how they are taught. The resources that are used, the text books that are being included, and kind of the capstone projects.
So in a traditional marketing degree program, you would have a marketing plan. That's what we're trying to help students create. But in a social media or digital content management degree program, the question is, what are students supposed to create when they are done with the degree program? What document? What capstone? What thesis? What product can they create that tells us that they have a high level of understanding and knowledge of social media and digital marketing? That's the conversation that's taking place in academia right now.
OMCP: And that takes me just directly to the next question that is top of mind for me. So in addition to all these advanced degrees and fellowships, you yourself are certified in a number of areas. PMP, I notice and, of course, OMCP. As you are building out these programs, advising colleges and universities about building out these programs…actually teaching them and even influencing colleges and universities to use social media to market themselves…I'm wondering why certifications are important to you. And what message do you think certifications like OMCP convey to the world?
Dr. Rahim: Well, I think that's a great question. I think there needs to be balance between traditional education and competency-based testing, right? Where academia changes a lot slower than industry standards. So it may take a year or two for me to get a new degree program implemented and approved. It may take me a full year to revise a curriculum based on changes in the industry. Where I think industry standards change so rapidly. Research, ideas, methodologies, technologies. Those things are constantly changing. So that's why certification is so important because it balances this stuff out.
While education and traditional institutions lay the foundation of what I should learn and how I should learn, certifications and licenses provide an industry standard that is constantly changing, that allows me to change with what's happening in the professional world. So while education really measures and assesses a person's body of knowledge, that's a little bit more broad within a specialization. Certifications allows me show industries that I have these learning competencies that I have mastered. That these are competencies that are not based on academic research, but are based on changes that are happening in the industry that have been approved, been recognized, and have been governed by industry standards.
So that's why I think certifications like the PMP, the CPA, even the social media marketing certifications, allow a company to not only know that this student or this potential employee has the education foundation…because they earned that degree in order to take the certifications often, right…but they also are current. They are up-to-date on this industry standard because these certifications are constantly changing. It's always evolving. Text books that are tied to it, the technology, the language, the content, the process. All these things are constantly changing because the world that exists around these professions changes constantly, influenced by globalization and technology and so forth.
So I think it's very important for people to have both. I think you should have that degree. You should have that diploma that provides the foundation of education. But you need to have those certifications within those various professions to show that you are aware of industry standards and changes in the industry. And that you meet these skill sets that these companies are looking for.
OMCP: Thank you very much. Very well said. And as an organization dedicated with the creation and maintenance of standards and certification for the field of online marketing, we, OMCP, rely on contributions and influence of people in the industry. And people in academia like you to ensure that the certifications we're providing deliver value. And as you say, real world knowledge that both students need and employers out there in the world are looking for. Where do you see the field of online marketing going in the next few years? And what's your advice for people who are preparing for the profession?
Dr. Rahim: I think it's growing rapidly. If we look at just even four years ago, there was not really a position for this type of work. People would work as consultants to help companies, to help marketing departments. There was probably a single person that did digital marketing and kind of managed social media for a company or for a university. But now you have an entire department. So even within the last five years, you have an entire department that's actually separated from the marketing department that manages, operates, and creates strategy behind digital marketing. And social media management, and even content management.
And it went from just marketing…for example, it went from companies and universities just hosting advertisements in this digital space to actually creating a balance. And really looking at their level of engagement and influence on social media. And even with…schools and programs are being ranked by different trade associations on their level of influence on social media. And now companies are tracking their customer loyalty and conversation by way of social media. Universities are looking at enrollment and retention and student experience by way of social media. Because the millennial, much of their interaction and their communication in their daily life is tied to social media.
So how you manage those social media platforms and those devices are very important. And you just can't put advertisement out there. Companies are now realizing that. And if they do not, then they're slowly dying. They're not taking advantage of all the opportunities. So I see this type of work, this type of job rapidly growing and changing the conversation behind both technology and marketing.
And really changing how companies promote themselves and engage with their customers. And how universities attract new students and even faculty. And even down to publications with traditional faculty that focus predominantly on research publications are now really looking at how to increase their views, their re-posting, their sharing of tweets by way of blogs and white papers. Which is all digital content media right there.
So it's almost like social media is forcing traditional business and traditional universities to change how they do business. And allowing students and customers to engage in this conversation, in this evolution, in this change because blogs allow you to interact with the writer. What I share on Twitter allows a student to re-tweet or respond to my tweet. What I post on LinkedIn allows me to interact with my network, my followers, and so forth. Where in traditional publications, whether it's a research paper from a faculty at a university or a trade magazine published by some industry, those platforms does not allow you to interact with your customers and students. Social media is allowing you to do that.
OMCP: Well, thank you so much for speaking with us today and being so clear and fore sightful, insightful about this profession and the direction that it's heading.
Dr. Rahim: Thank you. I enjoyed it. Have a great day.
Podcast: Play in new window | Download
Subscribe: Apple Podcasts | Google Podcasts | RSS