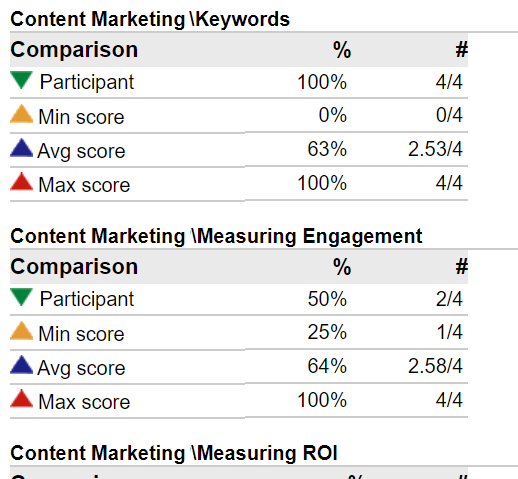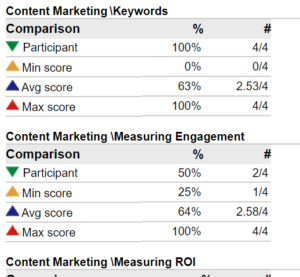 "I know digital marketing," said the candidate, "I've been practicing social media since it started in 2015." The hiring manager is rightfully skeptical. But besides some easily memorized buzzwords, how can the hiring manager validate skills in an unbiased way?
The practice of digital marketing has matured from an 'edge-practice' relegated to a few specialists to a required skill set in over 78% of marketing job postings and internal marketing roles. Here, leading managers weigh in on how to implement skills measurement systems for hiring and promotion of digital marketing professionals.
How are digital marketing skills measured?
Solutions for measuring digital marketing skills may be categorized into three useful groups
Training provider pre-tests or quizzes
In-house assessments
Industry-standard assessments
Source: OMCP Team Certification Process
1. Training Provider Pre-Tests or Quizzes
Using tests provided by a training provider can align well with the vendor course content, ensuring that learners only take needed modules. Managers must ensure that the vendor exams and course content are comprehensive and representative of industry or company standards.
Hundreds of training providers provide pre-tests or quizzes as part of training that is aligned with the OMCP industry standards.


It's important that managers ensure that the competencies required for internal roles have significant overlap with those taught by the course provider.
2. In-House Assessments
Using in-house assessments allows the manager to customize measurement to internal practices. Best results occur when exam-writing and psychometric skillsets are present, and some adherence to industry standards (or specified differentiation from them) is observed. This is a time-intensive exercise. For those who do not have this expertise, OMCP provides industry competency standards to assist in in-house assessments that comply with industry standards.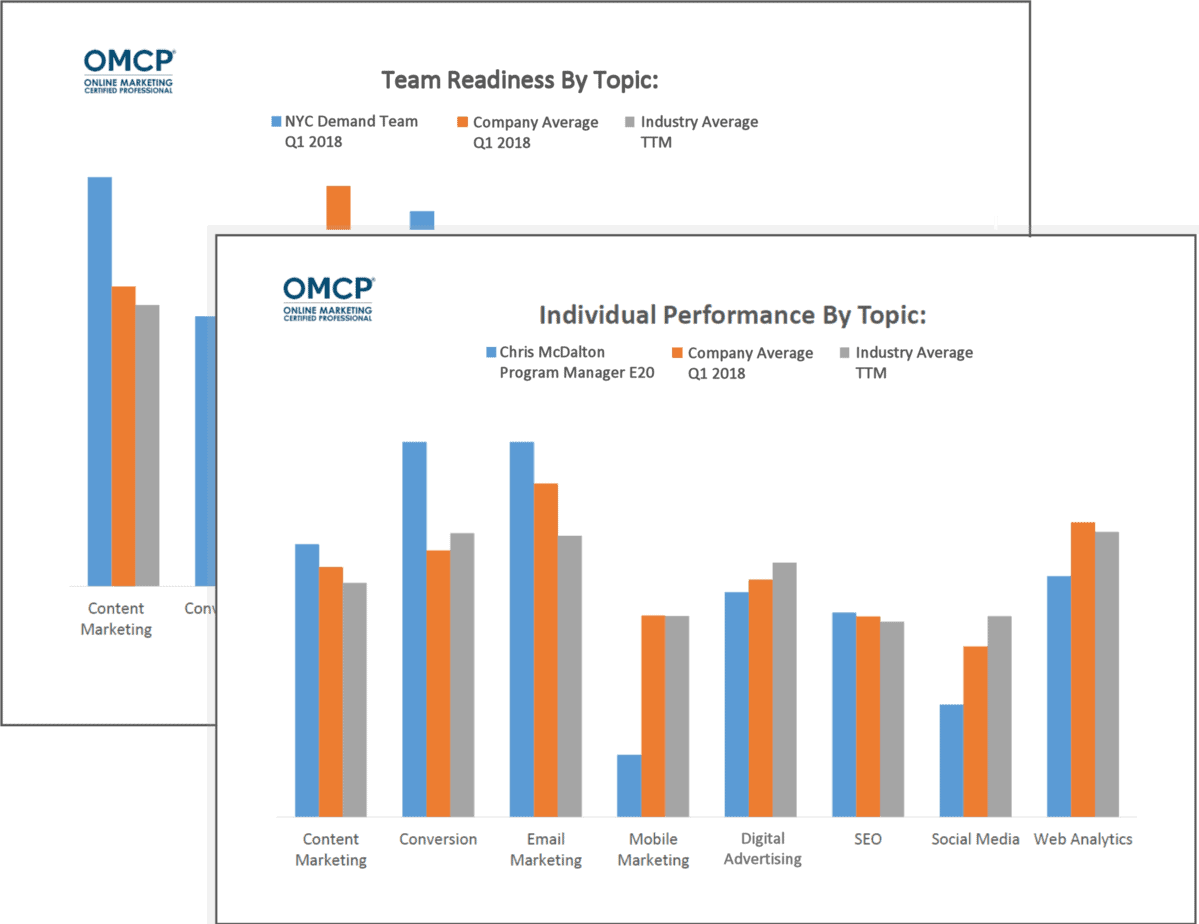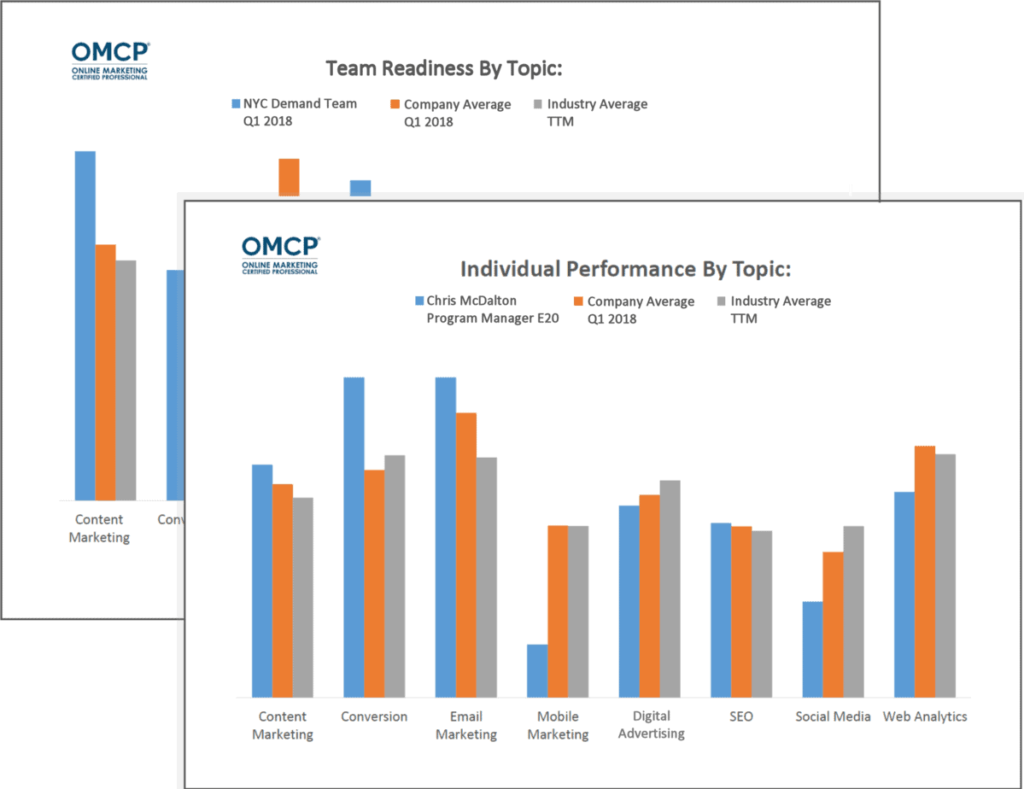 Teams find mapping against divisions and industry average to be a useful measurement for annual performance reviews
3. Industry Standard Assessments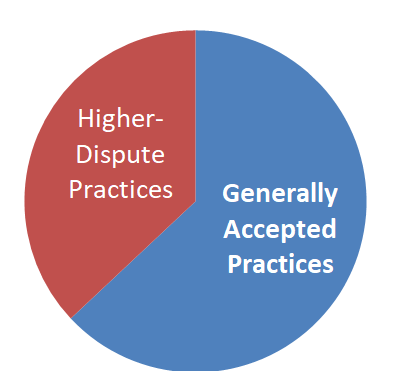 Industry standard assessments measure knowledge of established digital marketing practices and verify digital marketing competencies as set by a wide base of industry leaders, educators, and hiring managers. These are necessarily a subset of actual practice, judged as low-dispute by leading practitioners. Practices are placed in the standard when a majority of polled subject matter experts agree that a practice is "generally-accepted" and practiced as such. Participants who test using industry standard assessments have the assurance of working towards a credential that is transferable, and is independent of any vendor, training company, or employer.
Managers who measure digital marketing skills using industry standards report these benefits:
Improved marketing results when a common understanding of digital is shared among employees, staff, agencies, and outside contractors
Higher participation in training when staff earn an industry certification
Increased confidence in the program and in training when courses align with industry-standards
Increased productive hours (or billable hours) when experts practice more efficiently and/or can test out of training
Longer retention of skilled talent: Industry certifications are viewed as a valuable, career-building benefit for employees
Leaders Weigh In on Best Practices
Leading marketing teams including those from Bayer, P&G, Mediacom, and GTB have shared best practices in leveling-up digital marketing talent using OMCP digital marketing standards. Here are the six most common:
The most successful programs start with at least one highly-visible executive sponsor and create a central budget for exam vouchers and training.
Measure skills through standard tests, not by participation in training
All staff and service providers who must communicate marketing concepts are encouraged (or required) to test and certify by a set date.
Use gated entitlement to save hours and costs.

Evangelize the program one month in advance or more.
Everyone takes the OMCA practice assessment within a two-week period.
Training access is available to those who score 69% or lower.
Exam vouchers are awarded to those who score 70% or higher
OMCA-certified are offered continued training and/or voucher for OMCP exams

Celebrate individuals, teams, and regions that achieve earliest and/or highest certifications.

Boost employer reputation by honoring individuals who achieve OMCP status on company social channels.
Hold many internal recognition events where sponsoring executives call out leaders by name.

Maintain readiness by providing annual testing.
It is important to note that these methods are focused on measuring hard skills in digital marketing. Validating experience, education, results, soft skills, work habits and behaviors are also important in the assessment process, but are beyond the scope of this post.
Process Guide (Direct Download, no Form)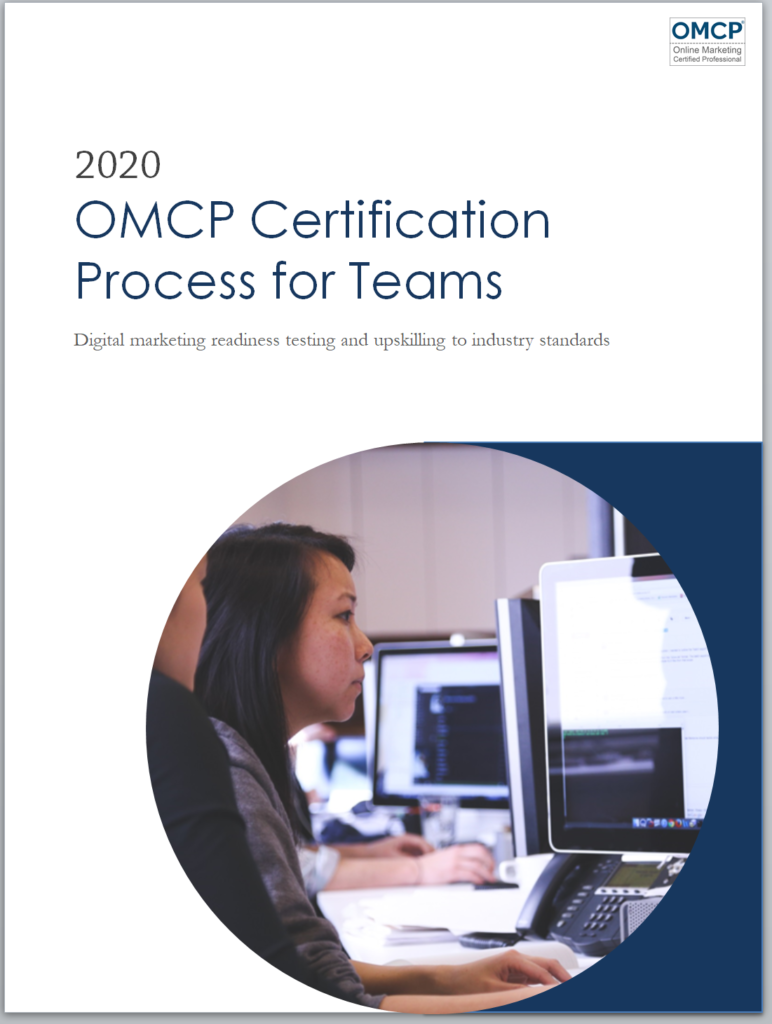 Use this guide to plan your digital marketing measurement and upskilling using OMCP certification standards. Contains best practices for digital marketing readiness testing and upskilling to OMCP industry standards offered by marketing leaders at P&G, Dell, GTb, Mediacom, Bayer and others.
OMCP provides certification, verification, and credentialing of individual practitioners, teams, agencies, and educational institutions. OMCP supports hundreds of qualified educators, training institutes, and platforms, and does not sell training. Over 900 colleges and training institutes teach to OMCP standards, worldwide. Contact OMCP to join a guidance committee or to vote on updates to the standard.