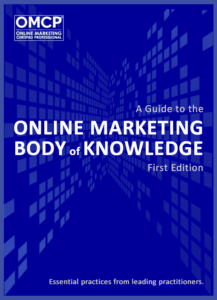 Professional marketers are invited to answer questions, vote, and comment below. Curated answers from the OMBOK pages will be published, with attribution, in the next free Guide to the Online Marketing Body of Knowledge from OMCP.
Professional web analytics practitioners focus on the following practices to improve communication with decision makers:
Ensure that you have a consistent process in place to identify your Business Objectives, Goals, Key Performance Indicators and Targets. The process should be repeated every six-months to ensure you are executing purposeful data strategies.
Establish a governance model for data presentation and action. Per-identified meetings to present strategic and tactical dashboards, ensuring each KPI has a specific owner, and ensuring that each business owner attends these meetings ensures long term success.
Ensure that the Analysts are present in key business team meetings so that they have a consistent connection with business and important decision makers.
Quality of data is a lot more important than quantity of data. Effective communication with business decision makers means ensuring an extra-ordinary obsession with quality.
Bring insights: Here's what should you do based on what I've found in our performance data. Present data to support those insights as simply as you possibly can.
You must login to post comments
Your Answer
Please login first to submit.