Which state in the US has the highest-skilled digital marketers? OMCP is sharing digital marketing skill levels by US State as derived from a subset of online marketing exams served to thousands of candidates over the last 12 months. OMCP is an independent industry association that verifies digital marketing skills via online exams. Certification in digital marketing is awarded by verification of experience, education, exam scores, and credit for training from over 900 accredited providers and platform courses.
The overall results are first and then specific placement for SEO Skills, Digital Advertising Skills, Social Media Marketing Skills, Digital Analytics Skills, Conversion UX Skills, and Email Marketing Skills follow. Methods, sample size and usage guidelines are at the end of the post.
Digital Marketing Skills by State in the US
The top 10 states for Digital Marketing are:
Ohio
Georgia
Tennessee
Illinois
New York
Washington State
Texas
North Carolina
Maryland
Pennsylvania
These top 10 states scored above the average overall US average of 71.3% with Ohio topping the list at 83.9% average score for digital marketing skills. Washington state is the only western state appearing in the top 10 overall, though Hawaii scores at the top in some of the individual practices. California placed 16th which might be a wake up call for Los Angeles and the San Francisco Bay Area to study up and improve those digital marketing skills. Contact OMCP with specific requests to other data.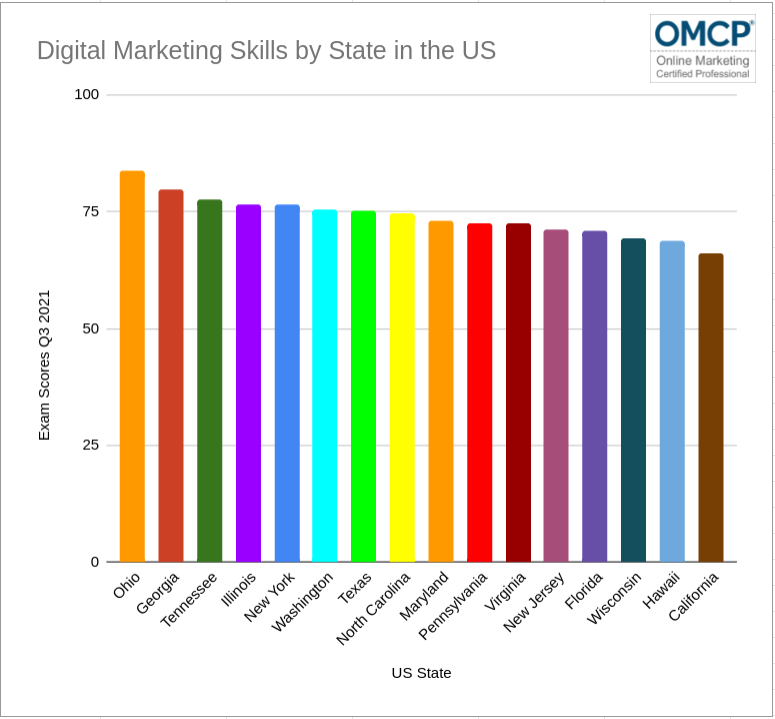 Top 10 States for Digital Analytics Skills
Analytics where palm trees sway:
The state of Hawaii produces the top skills in Digital Analytics which aligns with previous reports of digital analytics skills by time zone. Earning scores of 83.4% across exams, the State of Hawaii makes heavy use of the US Department Of Labor Workforce Investment Act for OMCP certification in digital analytics, so it's no surprise they continue to rank #1 in this important skill. Need to build an analytics team? Build it in Hawaii. We could think of worse places!
Hawaii
Georgia
Pennsylvania
North Carolina
Ohio
Washington
New York
Florida
Texas
Illinois
Georgia ranks second in the US for digital analytics skills with a score of 82.9% average over the last 12 months with Pennsylvania in third place. Tennessee, while ranking well in other areas, has room for improvement in digital analytics with an under-average score of 69.8.
Top 10 States for Social Media Marketing Skills
Virginia is for lovers and also leads all other states in social media exam scores this year, scoring 91% average compared to runner-up Washington (79.7%) and third place Illinois (78.6%). Ohio places fourth edging out a near tie between Georgia and Tennessee. New York state barely edges into 10th place with a near mean score of 67.6%
Virginia
Washington
Illinois
Ohio
Tennessee
Georgia
Texas
Maryland
North Carolina
New York
Top 10 States for Digital Advertising Skills
Ohio leads again in Digital Advertising and PPC skills with prior leader New York dropping to third place in this round. Knowledge in this discipline must cover PPC, display, programmatic, and campaign setup factors that are common to the leading platforms. OMCP awards credit for completion of most leading platform education courses.
Ohio
Tennessee
New York
Wisconsin
New Jersey
Georgia
Texas
Illinois
Hawaii
1Florida
Top 10 States for Mobile Marketing Skills
For mobile marketing skills, Georgia, Ohio, and Tennessee pull away from the bell curve all earning average scores in the 80s. Hawaii places 4th scoring 77.2% well above average for this practice.
Ohio
Georgia
Tennessee
Hawaii
New York
Maryland
Pennsylvania
New Jersey
Florida
Illinois
Top 10 States for Marketing Automation Skills
Virginia for the record with 99.9% average score edging out New York State's 96.6% as the two leaders in Marketing Automation skills with near perfect scores. Texas and Georgia are neck in neck at 87.5% and 87.1% respectively. The overall average is 82% which is a signal to OMCP to toughen up the exam questions in Marketing Automation this year. Study up Ohio!
Virginia
New York
North Carolina
New Jersey
Maryland
Washington
Texas
Georgia
Illinois
Ohio
Top 10 States for Content Marketing Skills
Content marketing is more than writing, more than posting images, and Ohio knows the strategy earning 89% average to lead the other eastern states in this important practice. Where are the western states in the top ranks? At least we see Washington State making an appearance at 10th place with scores of 75.7% average.
Ohio
Illinois
Georgia
North Carolina
Texas
Wisconsin
Maryland
Pennsylvania
Tennessee
Washington
Top 10 States for SEO Skills
We love seeing Hawaii top the another list, this time for Search Engine Optimization skills. We have a hunch this is related to Hawaii making use of US Department of Labor WIA program, where the US government pays to train and earn your OMCP in SEO and Digital Analytics. Great careers. Great pay. Way to go Hawaii! Washington, Illinois, and Florida come in at a three-way tie at 75.7%.
Hawaii
Ohio
Texas
New York
Washington (tie)
Florida (tie)
Illinois (tie)
Georgia
North Carolina
Pennsylvania
Top 10 States for Email Marketing Skills
When done right, email marketing still has the greatest conversion of all channels. Pennsylvania gets this and understands the laws and regulations related to email marketing. Tennessee and Virginia tie at 90.9% average scores.
Pennsylvania
Illinois
Tennessee (tie)
Virginia (tie)
Ohio
Georgia
Texas
Washington
New York
Maryland
Top 10 States for Conversion Rate Optimization UX Skills
Top scores in conversion helped Ohio top the overall list this year coming in at 97.3% on the CRO skills exams from OMCP. New Jersey makes an appearance and New York slips to 9th with a respectable score of 82% for conversion UX exam items.
Ohio
Tennessee
New Jersey
North Carolina
Washington
Maryland
Georgia
Texas
New York
Hawaii
Methods and Sample Size
This data was derived from 1,264 exam instances specifically from a subset of OMCA Practice Exams served over 12 months trailing the date of publication. To protect the privacy of candidates, we omitted a high number of exams that could suggest the performance of a team or a college class undergoing digital marketing readiness testing in a specific region. So for example, if a group of 130 staff from an agency office in Illinois all took an OMCA exam, we would eliminate those since, conceivably, someone could derive insights about that team from the reported numbers in that region. This is also why we do not report the number of exams per region, however a region must have at least 10 'individual' (non team) instances to be ranked and then we only included the top 10 states.
These results do not reflect or include the OMCP Practice Exams, the OMCA Certification Exams or the OMCP Certification exams. The OMCA practice exams serve 24 items, 2-3 per discipline, and the items do not regularly rotate. The items test to the OMCA competencies which verify a concept and component level understanding of the primary digital marketing disciplines. OMCA certification is intended for those who manage marketing teams/programs or must communicate digital marketing concepts. The OMCP exams test for implementation-level skills and are not included in this data. There is an adjustment in the social media scores as one item was in dispute for a low P-Value score and later found to be unreliable within the reporting period. It has since been updated.
The location data is derived from the IP address as reported by queries to http://www.geoplugin.net and can be flawed.
Meant to be Fun and Constructive
This data is intended to be used for analysis, reporting, and lighthearted constructive competition. Much like the international Olympics, we've seen that friendly competition to improve performance can help everyone. We'd love to see one region work to perform better than another! We predicted that it is unlikely that harm could come from this. But if we see it being used with malice towards any region, nationality, ethnic group, etc. OMCP will take it down and stop reporting it.
Use of the Data and Attribution
You may use the data if you attribute any use to OMCP, with a link back to OMCP. Since the numbers will change, be sure to stay up to date on changes by following OMCP on twitter. Request access to the data tables here (Google Sheets Shared doc request).